Services & Rates
Swedish Massage
Swedish Massage is a very relaxing and therapeutic style of bodywork. It combines  lotion with an array of strokes such as rolling, kneading, and percussion to help the body improve its circulation. The benefits of this type of bodywork are wide-ranging and include relief from aches and pains, decreased stress levels in the body, enhanced mental clarity, improved appearance, and greater flexibility.
Deep Tissue Massage
Deep Tissue Massage is a form of bodywork that aims to relieve tension in the deeper layers of tissue in the body. Deep Tissue Massage is a highly effective method for releasing chronic stress areas due to misalignment, repetitive motions, and past lingering injuries. Due to the nature of the deep tissue work, open communication during the session is crucial to make sure you don't get too uncomfortable. Keep in mind that soreness is pretty common after the treatment, and that plenty of water should be ingested to aid with the flushing and removal of toxins that will have been released from the deep tissue during the session.
Chair Massage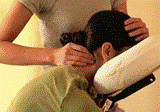 Chair massage is a popular way of relieving stress and releasing tension right in your home or workplace, or my office.  In addition to the usual health benefits of massage, another benefit of chair massage is that it is done over the clothing. With seated massage, you can avoid the discomfort and awkwardness that you may feel in disrobing for a traditional massage. Also, chair massage sessions are usually shorter than traditional massage, making it convenient enough to fit into your busy schedule.
Pregnancy Massage
Pregnancy Massage is a style of bodywork designed specifically for pregnant women. Pregnancy is a time when a woman's body endures tremendous stress due to dramatic physical and emotional changes. Using various techniques and additional cushions specially developed for the expecting mother, Pregnancy Massage helps release the pain and discomfort experienced throughout pregnancy. The benefits are profound, including emotional support, the relief of joint pain due to extra weight and postural imbalance, and improved breathing and relaxation.  In my sessions I use a pregnancy cushion allowing you to lay on you tummy!
Cupping Therapy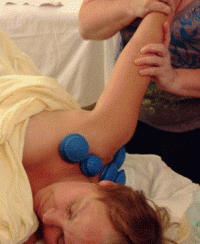 Cupping Massage
Nothing works better at opening up and releasing joints, connective tissue and muscles than the use of negative pressure and movement.  Another benefit of Negative Pressure Massage is that it really feels great! The pulling action engages the parasympathetic nervous system, thus allowing a deep relaxation to move through the entire body. It is not unusual to fall asleep when receiving this treatment. Clients are surprised at how relaxed, warm and light they feel – hours... sometimes even days afterwards.
NO ADDED FEE WHEN CUPPING ADDED TO ANY SESSION
Warm Bamboo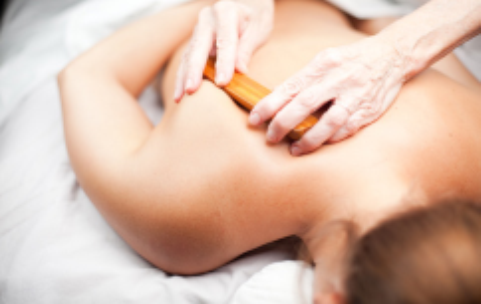 Warm Bamboo
Compressed warmed bamboo is a unique new therapy that relaxes tight muscles – instantly and painlessly! It's an effective way to release stress and tension, relieve aches and pains, loosen tight muscles.
NO ADDED FEE WHEN CUPPING ADDED TO ANY SESSION
AromaTouch Massage®
AromaTouch Massage®
This massage utilizes doTerra® essential oils. These oils are applied to the back and the feet in a specific sequence and with specific strokes to promotes balance so healing can continue. AromaTouch® massage is recommended as an integral part of preventive care even for healthy people.
AromaTouch is not a treatment for any specific disease or condition. the body's natural healing abilities are miraculous.
This technique is approximately a forty-five minutes session, if you wish to add fifteen minutes of targeted massage please inform me when making appointment.